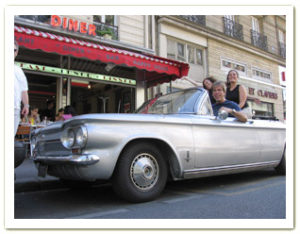 Originally from Connecticut, BIA owner Craig Carlson first came to France as a student and instantly fell in love with the country.  It was in Paris — thanks to the numerous art house cinemas — that Craig developed his love for film and decided to pursue it as a career.  After attending USC film school in Los Angeles, Craig worked as a screenwriter and short filmmaker before landing a job in Paris working on a TV show.  During this time, the only thing Craig missed in the City of Light was a good ol' American breakfast. Craig became convinced that the time was right for an authentic American diner in Paris!
The first BIA opened its doors in January 2003 followed by BIA 2 in 2006.  Thanks to his friends in the Hollywood film industry who came on board as investors, Craig was able to bring together two of his loves under one roof:  the cinema and diners. You can read all about the BIA story in a new book written by Craig called Pancakes in Paris: Living the American Dream in France, now a New York Times best seller. Signed copies of Craig's book are available at both BIA 1 and BIA 2.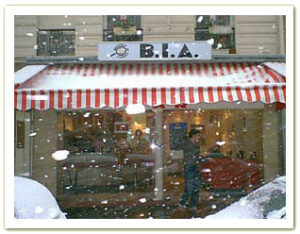 On Saturday, January 4th, 2003, the first Breakfast in America opened its doors during one of the heaviest snowfalls in Paris in years. We looked at it as a nice sign. Several customers braved the cold and came in for breakfast and steamin' cups o' joe.
VERSION FRANÇAISE 

Originaire de l'Etat du Connecticut, le fondateur de BIA, Craig Carlson, est venu en France pour la première fois en tant qu'étudiant et est tout de suite tombé amoureux du pays. C'est à Paris que Craig a développé sa passion pour le cinéma et a décidé d'en faire une carrière. Après avoir étudié à l'école du cinéma USC à Los Angeles, Craig a travaillé comme scénariste et réalisateur de courts métrages avant de trouver un travail pour une série de télé à Paris. La seule chose qui manquait à Craig, lorsqu'il vivait dans la ville des lumières, était ce bon vieux petit déjeuner américain.  Craig fût convaincu qu'il était temps d'ouvrir un authentique Diner Américain à Paris !
Le premier BIA a ouvert ses portes en janvier 2003 suivi par BIA 2 en 2006. Grâce à ses amis du monde du cinéma hollywoodien qui ont rejoint le projet en tant qu'investisseurs, Craig a réussi à rassembler deux de ses passions – le cinéma et les Diners. Vous pouvez maintenant lire toute l'histoire de BIA dans le nouveau livre écrit par Craig, Pancakes in Paris: Living the American Dream in France, maintenant un bestseller du New York Times. Le livre dédicacé est en vente dans les restaurants BIA 1 et BIA 2.